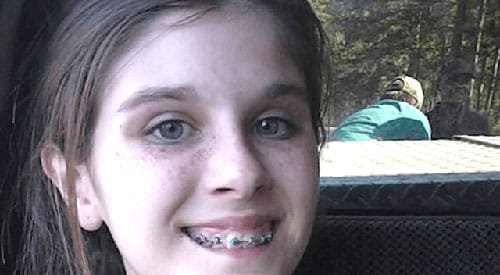 (PCM) Whether you believe in ghosts or not, you have to admit that the eerie apparition that appears in the back of this teen's camping photo definitely provides some tangible evidence.  A woman named Jessica Ogletree posted a selfie on Facebook that was taken by her 13-year-old daughter during a family camping trip. The photo appears innocent enough until you come to the realization that the image of the black man, who is facing the camera, was not a friend who tagged along for the trip.
In the photo you can see a white man bending over facing away from the camera and the black man is facing the camera with a huge smile on his face. According to Ogletree, there were only two people in the photo when it was snapped: her daughter and her son who can be seen in the background! Ogletree's post read:
FB FRIENDS CHECK THIS OUT! This picture was taken by my 13 year old daughter earlier today at Paradise (the fishing place) in Tifton, Ga. Notice my son Kolton in the background and then notice the gentleman standing to his right!!! Ya'll this gentleman was NOT with them today and there was no one else at these back ponds where they were fishing! The only people there today were Haley, Kolton, and their grandparents Dennis and Vera Baldree. Haley was going back through her pictures and saw this and needless to say freaked out and called me lol! I personally think it's pretty cool because today is Kolton's birthday and he caught the biggest fish he's ever caught! It looks like the man is happy for him!
*Please feel free to share
It can be assumed that the black man the appeared in the photo is definitely a ghost, but he does look quite friendly, so there is really no reason to be too frightened. Although, it is a bit creepy! Ogletree's post has gone viral with many people sharing their opinions about the mysterious apparition. What do you think? Ghost or camera trick?