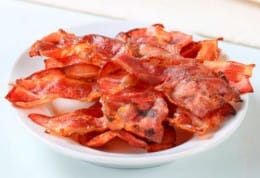 (PCM) Is there a food out there right now that is more popular than bacon?  Sometimes we ponder if there is anything that bacon can not do! Could it even now be a new form of birth control?
A recent study is now reporting that consuming bacon may actually play a role in lowering a males sperm count. The study conducted by the Harvard School of Public Health suggests that men who consume more than half a portion of bacon or processed meat per day have fewer "normal" sperm than men who consume less.
The advice from researchers for men who are wishing to conceive with their partner was to stay away from bacon and other forms of red meat. Definitely not an easy feat for those men that are true lovers of the heavenly treat. Perhaps there is a way to still enjoy a reasonable amount of bacon and counter the effects to a mans' sperm count, as another study shows that consuming a portion of white fish such as cod or halibut can improve a mans' sperm count quite a bit. Not sure if bacon and fish is such a yummy combination, but I think there have been far worse combos that have been concocted with bacon of the years.
Definitely some food for thought!