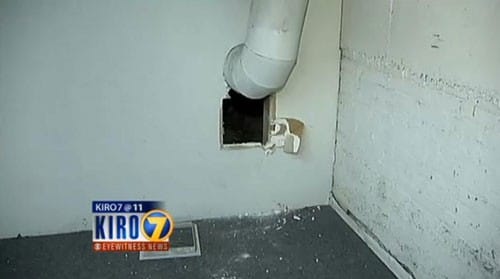 (PCM) A Seattle burglar was recently captured by authorities after he attempted to escape by cutting through some drywall in an apartment complex and became stuck in the buildings air duct system.
Police were called to the Prudential apartment complex after a resident notified them that he had seen a man stealing quarters from the buildings laundry room vending machine. When the suspect knew that he had been cornered he made an attempt to barricade himself in the room by screwing the door shut and then cut through the drywall to make his escape.
The suspect made it all the way to the buildings basement before he ran into a masonry wall and became trapped with no where else to turn. He ended up getting stuck trying to make his way through a small crevice that led to the outside alley. He had to be rescued by police and firefighters on the scene as he was trapped between two air ducts.
Once he was freed, the suspect was arrested and told police he was extremely high and was found to have several $1 dollar bills and over $20 in quarters on his person, all of which was most likely stolen from the apartment complex's vending machines.
The suspect also probably sealed his fate even more when he responded simply with "Heroin" when police asked him if he required any medical attention.