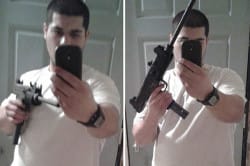 (PCM) 21-year old bank robbery suspect Jules Bahler may have sealed his own fate after posting a selfie on Facebook that featured him holding a submachine gun that he allegedly used to hold-up a Michigan bank last week.
Authorities allege that Bahler is responsible for robbing three banks in the Michigan area in the areas of Pontiac and Bay City. During the first two robberies in Pontiac a note was passed to the teller demanding money, however during the robbery in Bay City, Bahler displayed the submachine gun while demanding the cash.
The teller handed Bahler $7000 in cash during the Bay City robbery and prior to that, Bahler allegedly made off with over $8300 during the robberies in Pontiac.
A local area police sergeant tipped off the FBI to Bahler's Facebook page which featured a series of selfie photographs of him posing with the submachine gun and also wearing clothing that matched a description to those worn by the suspect in the bank robberies.
The photo with the submachine gun was posted on Bahler's Facebook page on March 5th, the same day as the Bay City bank robbery. Bahler, who goes by the user name of "King Romeo" had recently bragged on his Facebook page about purchasing a home and a chopper, claiming "Life is good". A friend of Bahler's going by the user name "King Machete" commented on the selfie pic with the gun "U tripping brotha I wouldn't show that s**t off like that cops be watching this s**t  brotha." And they were indeed!
Bahler was arrested after authorities conducted a traffic stop on him after he was seen leaving his Pontiac area home. Sources claim Bahler waived his Miranda rights and confessed to all three bank robberies.