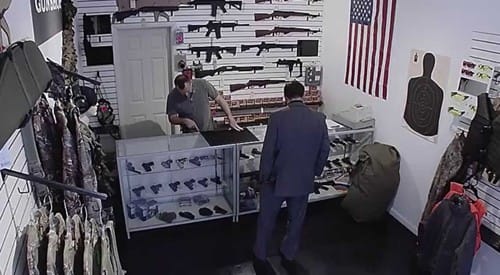 (PCM) A fake gun shop was set up in New York City last week by a group called States United to Prevent Gun Violence. The group feels very strongly about their stance on the importance of teaching people gun safety and filmed a PSA inside the fake gun shop with unsuspecting customers.
The fake shop was stocked to the brim with over 100 realistic looking prop guns, as well as, hidden camera and an actor playing the salesman. The actor who portrayed the salesman told the would-be gun buyers so pretty horrific stories about specific crimes that each of the certain types of guns had be involved with in the past. The actor/salesman included stories about homicides, suicides, accidental shootings and more.
The fake stores main target was first time gun buyer and it was set up for two days while the social experiment was conducted. The group sales that they felt there was a need to film the PSA, as many people in this country feel that keeping a firearm in the home somehow makes that home a safer place. However, studies contradict those opinions and show that there is more increased risk of death or injury by actually having the firearm in the house.
You can watch the States United to Prevent Gun Violence PSA below, which now has over 3 million views on YouTube: