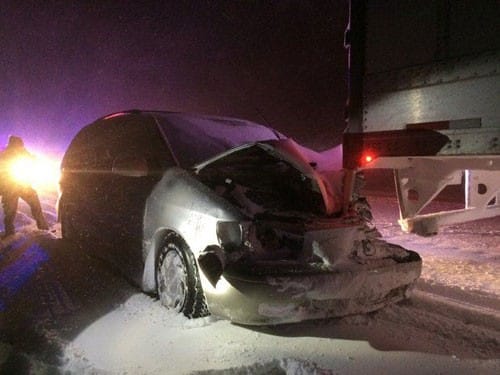 (PCM) A family in Michigan is safe and sound after quite a scary ordeal that occurred during a snowstorm on Interstate 75. Pamela and Matthew Menz were traveling with their adult children Justin and Jennifer when their minivan crashed into the back of a semi-truck that was also traveling along the highway.
The Menz's minivan became hooked and lodged to the back of the semi after the accident and was then dragged nearly sixteen miles through blizzard like conditions on the highway. The driver of the semi had no idea they were even stuck back there.
It seems that the accident did not occur at an incredibly high rate of speed, as Matthew Menz told reporters that the semi was in the middle of the highway going about 2 miles an hour, but failed to have his flashing hazard lights turned on. Menz goes on to say that they had no warning whatsoever when they hit the semi and he was "blown away" by just how slow the truck was going.
When the impact of the accident occurred, the Menz's minivan completely shut down and they lost the use of their heater and the ability to blow the horn to alert the truck's driver. The Menz's did make a call to a 911 dispatcher to explain the situation as they were being dragged behind the semi for nearly sixteen miles down the highway, even entering into another country before the ordeal came to an end.
Due to a shattered windshield and whiteout conditions in the area the Menz family was unable to give the 911 dispatchers a clear description of their exact location, hence why they were dragged for such a lengthy amount of time.
Once the semi was stopped the Menz family was taken to the hospital for minor injuries, but thank goodness no one was seriously injured … except of course for the minivan!
Facebook Notice for EU! You need to login to view and post FB Comments!