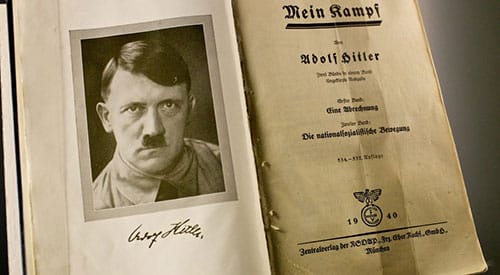 (PCM) The first edition of Hitler's anti-Semitic manifesto Mein Kampf was penned in 1924 and was around 600 pages long. After the end of World War II Bavaria held the copyright for the book and it was no allowed to be republished. That changes on January 1, 2016 when the book goes into public domain and will be republished again for the first time in seventy years.
The republished version of the book will include many additional connotations from various historians and according to the Institute of Contemporary History will expose the "lies, half-truths and vicious tirades" the book contains. There has been some criticism from members of the Jewish community that do not feel the book should be republished as it is dangerous and deserves no further discussions.
Those in favor of republishing the book say that by having it banned only increases curiosity and it is their hope that the annotated version can help educate and "demystify" certain aspects of Nazism.  There is slated to be about 4,000 copies of the book printed for the initial run and publishing the book without the proper annotations will still be considered illegal in Germany.
Do you think the book is too controversial to be republished or is it a part of history?