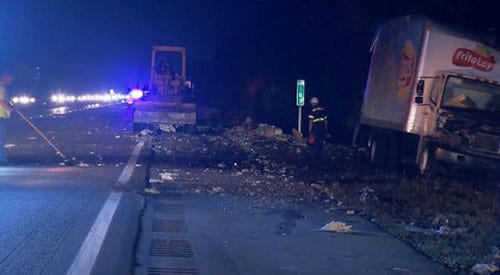 (PCM) The southbound lanes of Interstate 95 near Melbourne, Florida were shut-down for nearly four hours after two tractor trailers collided with one another littering the entire highway with Frito Lays chips and cans of beer. While, it may not have been a very "happy hour" for stranded motorists who were caught up in the traffic jam, thankfully neither of the truck drivers involved in the accident were seriously injured.
Florida Highway Patrol spokeswoman Kim Montes said in statement that Zachary Basinger of Melbourne had stopped his Frito Lay box truck onto the right shoulder. Roberto Ferrer Rodriguez of Miami told troopers he was trying to move his beer truck into the center lane but saw another vehicle and swerved back into the right lane. His truck hit the chips truck causing it to overturn.
Rodriguez was ticketed in the accident for failing to maintain a single lane. We wonder how many bags of chips and/or cans of beer mysteriously vanished during the clean-up effort for this accident?