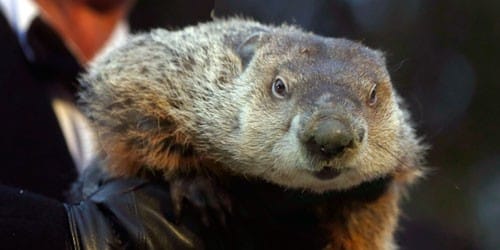 (PCM) Much to everyone's disappointment, especially those of us in the North East regions of the country, Groundhog Day mascot Punxsutawney Phil has seen his shadow, so you know what that means … six more grueling weeks of winter!
To commemorate Groundhog Day, a tradition that has taken place in the town of Punxsutawney, Pennsylvania since 1887, groundhog  Punxsutawney Phil was brought out at around 7:25am in the morning when we learned about his six more weeks of winter prediction.  It is said that Groundhog Day first originated as a way to celebrate the middle of the winter solstice and the beginning of the spring equinox.
It generally seems that Punxsutawney Phil sees his shadow more often than not, because out of all the Groundhog Day predictions that are on record, he has seen his shadow 101 times and not seen it on only a measly 17 times. The last time there was an early spring prediction was back in 2013, however we suffered a brutal winter that year as well, so you never know just how much certainty you can place on a groundhog and his shadow.
Facebook Notice for EU! You need to login to view and post FB Comments!