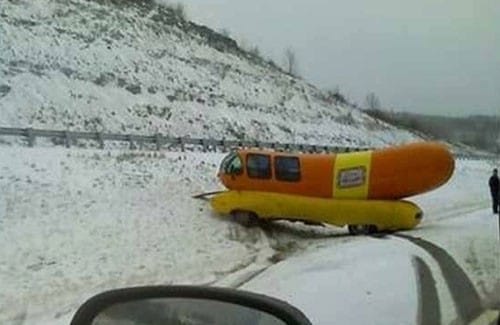 (PCM) There was no way we could resist sharing this one!  One of the famous Oscar Meyer Wienermobiles crashed while traveling on icy road conditions in Enola, Pennsylvania.
While it appears that no one was seriously injured in the accident, the Wienermobile suffered significant damage to the front bumper and a cracked windshield. Nearly every passer-by on the roadway was stopping to take pictures of the incident.
The Oscar Meyer company uses a fleet of six Wienermobiles for promotional opportunities since 1936.  Unfortunately now they are no longer a complete package.
On Wienermobile crash: "No one hurt, but the wiener is in bad shape," says @JesseKnutsonCBS http://t.co/7XDAi9KY3j pic.twitter.com/FHeCw57YpJ

— CBS News (@CBSNews) February 16, 2015