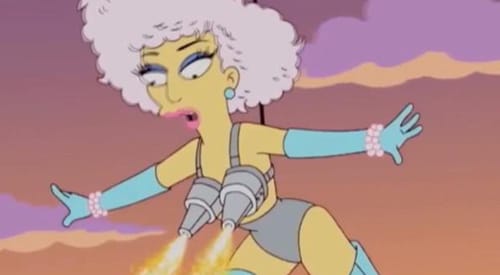 (PCM) By now The Simpsons is a household name. The hit TV show came out back in 1989 and is on its 28th season. The show airs on the Fox Network and has been a pop culture hit since first airing all the way back then. The show has had many prominent guests including Michael Jackson and Lady Gaga just to name a couple. We will get to Lady Gaga in a moment.
As of this writing 609 episodes have aired of the show. The Simpsons was created by Matt Groening and was helped to the air thanks to The Tracey Ullman Show. James L. Brooks who was a producer for The Tracey Ullman Show was looking for shorts to fill in for the show. Matt Groening created the characters based on his own family members. It has been stated in interviews that Groening based Bart in himself.
The Simpsons surpassed Gunsmoke, as the longest-running American scripted primetime television series in 2009. With 609 episodes in the can it is no surprise that the show has predicted a few things that have happened.
Here are a few examples of such predictions: In 2000 The Simpson's predicted that Donald Trump would be elected President of The United States. This occurred in season 11. Episode 17: Siegfried & Roy tiger Attack predicted in 1993. This occurred in season 5. Episode 10: The NSA Scandal predicted in 2007. This occurred in The Simpson's Movie. Broken Voting Machines predicted in 2008. This occurred in season 20. Episode 4. "Treehouse of Horror"
There have been many more predictions. The latest prediction to come to the light is that, The Simpsons predicted Lady Gaga playing the halftime show at the Super Bowl. Lady Gaga did appear and put one heck of a Halftime show at Super Bowl. In an eerie similarity, Lady Gaga appears to have done some of the stuff up on stage, that was predicted on the show.
I wonder what else The Simpsons will predict in the future!!!!
Save