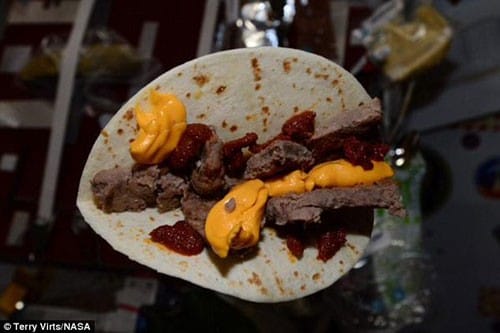 (PCM) A photo, posted by NASA showing astronaut Terry Virts getting ready to consume what is supposed to be a cheeseburger has been picking up quite a bit of steam online.
The photo was taken from outer space and whether or not the meal was meant to look appetizing is certainly up for debate.  We are leaning towards the side of unappetizing as it features tomato paste, a clumpy looking bright yellow cheese paste, a meat substance and a tortilla.
We could only imagine that it would be quite difficult to create an actual cheeseburger while floating in microgravity in the ISS (International Space Station), however the "space cheesburger" definitely seems to leave a bit to be desired.
Virts, himself, posted on Twitter "VERY TASTY" in response to the feedback that his "space cheeseburger" has been receiving, but something tells us there is just a little bit of sarcasm in his response.  We just can't see anything that looks like that as being "tasty", but who knows!
#SpaceCheeseburger. Beef patties, Russian mustard, tomato paste, cheese paste, and tortilla. VERY TASTY! pic.twitter.com/OrJ7Kqr3IW

— Terry W. Virts (@AstroTerry) February 19, 2015